We decided that a scorching summer evening would be the perfect time to venture out to local venues to catch some live music. Here, the result of last night's quest, is the first in the series of Karmic Fury live music reviews.
We started the evening at Coastal Roaster in Carolina Beach. Tucked away in a small strip mall, the small external storefront doesn't do justice to the coffee shop's charm and size.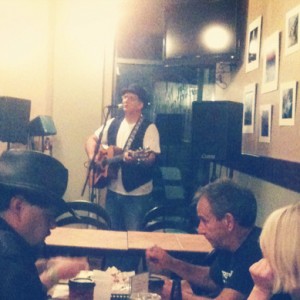 The inside is large-ish for a coffee shop (although they also serve food and smoothies and recently started carrying beer and wine), but the placement of couches and tables throughout the room lends it a cozy feel. This is exactly the kind of place you'd expect to find local folker Jim Ashley. Jim is a soft-spoken storyteller with a lot to say, and he delivers his sentiments with just the right amount of self-deprecating humor. The feeling is that of being in the living room of an old friend having a conversation, rather than being talked at by someone with a microphone. As we took our seats with two very reasonably priced craft beers, Jim delivered an anecdote about the Olympics and his own lack of athletic prowess, noting, "When I was a little boy I had aspirations to be in the Olympics. If that seems ridiculous now, it would have seemed really ridiculous then" before continuing on about similar aspirations to be a genius. The story was a perfect set up for "If I Had a Better Brain", a song about all that would be possible if – you guessed it – he had a better brain.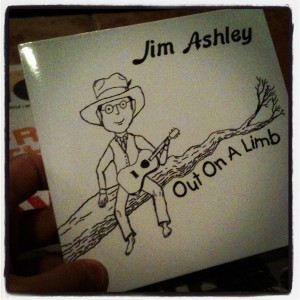 The solo acoustic set was a treat for people who come to shows to actually listen. The songs ranged from somber ("The Last Days of the Pony Express") to nostalgic ("Paradise") to frank and funny ("The Oprah Winfrey Blues"). The latter was a highlight of the set, largely due to Jim's expert guitar work leading into the song itself. He dabbled in some Spanish flamenco for a little while and then somehow segued gracefully into blues riffs which led into a humorous song about the dangers of watching too much Oprah. Although he threw in a few Jim Croce covers by request, Jim stuck to mostly original tunes and played them in a way that connected with the audience. And that deserves our applause.
With the night still young, we decided to stop by a house concert on our way downtown.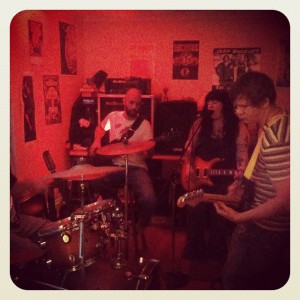 Hosted by two local musicians, it was a chance to jam and talk with like-minded people. The Harts are a husband and wife who literally rock in a bevy of Wilmington bands including Dirty Dakotas, and are fellow zealots of original music. We came in to find a handful of people bobbing their heads to a jam already in progress in the next room. The Harts (Chris on bass and Steph on vocals) improvised alongside an expert drummer and an adventurous guitar player and it was evident they were all having a blast. We've been to the Harts' house concerts before. Last time the Black Hellatones from Jacksonville were there – Kelly Dickson, Storm  Castañeda, and Kazz  Castañeda. Their jam was nothing short of soul-riveting.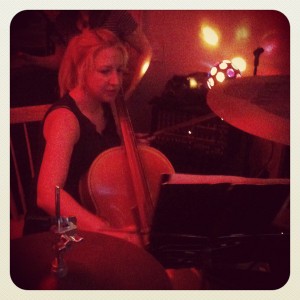 The Harts host these parties regularly and attract a variety of musicians and people who love music.  Where else can you talk and jam with strangers (strangers who are musicians and/or music lovers), listen to The Police on vinyl, and watch a cello player doing Metallica?
We made it downtown around 11:30, with the Wilmington bar scene in full swing. The crowd at Duck and Dive on Dock Street was no exception, with the tiny British pub full of people talking and dancing to the music. There was a three-piece band crammed into a corner making sure they were heard. The drummer is a friend of ours whose skill on the drums is matched by his enthusiasm – we've never before see someone play the drums with a mile-wide grin on his face literally the entire time. We were happy to see so many people there listening to original music, rather than the usual onslaught of cover songs. It was a perfect counterargument to those who insist on booking cover bands because "nobody comes out to listen to original music." Well, they do.
Starting to feel a little weary, we made our way a few blocks uptown to the Goat and Compass on Fourth St. in the Brooklyn Arts District. Another British pub, the Goat (as locals call it) was pretty lively for a place considered to be somewhat off the beaten path. They have a large back yard area with picnic benches and cornhole, and a lot of open space. The back might be bigger than the bar itself, which is a smattering of randomness; a deer head on the wall, a "W" on each bathroom for "Watercloset" (which led some drunken patrons to confusedly wonder if there was no men's bathroom), and a large drunk guy sitting at a tiny Ms. Pacman video game demanding we play with him. The crowd was just as random, with college kids and touristy-looking baby boomers, locals rolling their own smokes, and a healthy helping of blue-collar beer drinkers. When we walked in, Vision Vine, the duo of Clay Crotts on acoustic guitar/vocals and Michal Oliver on percussion, had the crowd swaying and moving to the music. We've seen Clay before and he always brings an abundance of positive energy to the stage, and last night was no exception. Michal added a vital boost with his skilled percussion work. When Clay broke a string, most people didn't even notice as they were too busy marveling at a well-executed impromptu conga/djembe solo. Perhaps the flow from jam to song with little time in between is why the people who were obviously bopping along and engaged didn't clap, but you got the feeling the guys were there just because they love to jam. Although they did do a mix of covers and originals, it is a credit to them that it was difficult to tell which was which. Their original songs are upbeat and catchy and their covers are performed in Vision Vine's upbeat acoustic reggae style. We arrived not long before a break in the set and didn't stay as long as we might have if we'd come there earlier in the evening, but it was a fitting end to a night that proved that yes, people do like original local music. They like it a lot.
KFR Live in Wilmington #1