Karmic Fury took in shows three nights in a row last week (artists: Brandi Carlile at Brooklyn Arts Center, Taylor Chadwick Bryan & the Songwriters' Showcase at TheatreNOW, Axiom at Projekte, Black Hellatones & The Hufton Brothers at Orton's) and we could have gone to more! There was just too much going on!
We are also proud to introduce the video companion to the text review. Check it out and read the full review below!!
Wednesday night we hit the Brooklyn Arts Center on 4th Street for the Brandi Carlile concert. It was a packed house. Local musician Mike Blair opened (without the Stonewalls), followed by Andy Hull. Despite our initial disappointment over the lack of a female opener, Carlile's show was fantastic, much more rockin live than her alt-country recordings.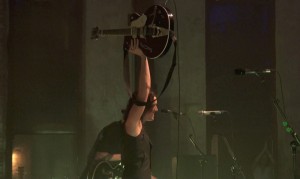 The show started with an old 78 playing on a gramophone, followed up dramatically by a wall of noise. This show was big. Songs went from soft, nuanced singing to huge, epic escalation. The sound quality alone was amazing. We've never heard better sounding drums, and drums that weren't amped too loud! Brandi switched from acoustic guitar to electric guitar to piano. At one point the band quieted the audience and did a full song completely unplugged, nothing amped, no microphone, just upright bass, acoustic guitar, violin and vocals. It sounded fantastic. During the encore, the crowd went wild for the new single "That Wasn't Me," the twins kept on smiling, and Brandi tipped her hat to us at the side of the stage.
Thursday night we went to the Stone Soup Songwriters' Showcase at the new venue TheatreNOW. The showcase, held on the second Thursday of each month, is the brainchild of event organizer and local musician Susan Savia. We arrived at the show a couple of performers in; while most shows say they are going to start at a certain time and then start at least an hour later, this show starts  promptly at 7:30pm, and anyone who attempts to talk over the music will be shushed just as promptly. It's a rare delight to walk into a crowded room where everyone is paying attention to what is happening onstage, and you know you won't be sitting around for hours waiting for the music to start.
TheatreNOW is a brand new building that sticks out in the rough-around the edges neighborhood on 10th Street. Already home to dinner theatre and a gospel jazz brunch, as well as movie screenings, this is a space we can see hosting a lot of community-oriented events. Equipped with tables throughout the room, bar seating, and a balcony all pointed in the direction of an impressive stage, the room was filled to capacity (45-60 people).
The showcase featured three song sets of original music from local artists Mike Adams, David Pell, Skylar Smith, and Brent Stimmel, as well as Paul Obernesser who closed out the evening with a set of his own despite working behind the bar all night. The featured musician was Taylor Chadwick Bryan (also known as Chad Taylor), a 20-year-old college student and country singer.
We enjoy most kinds of music here at KFR, however neither of your capable reviewers would describe ourselves as being "into" country. So we were a little unsure whether we'd be able to give a country singer a fair review based on our own personal tastes.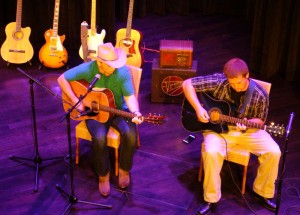 However, Bryan could have been singing any genre of music and it wouldn't matter. Several things were immediately apparent: he loves music and the joy he gets from performing is mirrored by the joy the audience receives listening; he can sing, and he's not afraid to go for it with a big note; and he can write catchy radio-friendly songs. Bryan took the stage looking every part the modern cowboy in a large hat and boots with tight jeans. He sang songs that most 20-year-olds growing up in the south would relate to – songs about girls, driving around, and a homage to "homemade wine and good times" on which he was joined on harmonica by Clayton Cole. Bryan's acoustic set also featured superb leads by acoustic guitar player Anthony Lowery. The addition of the second guitar gave the set depth and fullness, and raised the music to the next level.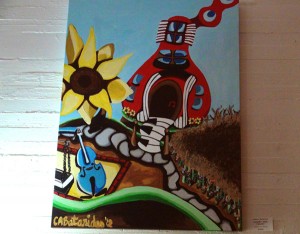 The showcase wrapped up around 10:00 and we were ready to call it an early night, until we drove by Projekte and saw there was a three-piece band playing to a decent-sized crowd. Projekte is an art gallery/bar/coffee house at the corner of 3rd and Castle that recently re-opened under new ownership. The band, Axiom, was engaged in an epic jam of world music as we walked in. We were immediately distracted by the vivid paintings adorning the walls. The pieces had underlying music themes, integrating guitars and keyboards throughout and invoking the idea of sort of an Alice in Wonderland with musical instruments. The stunning display was created by local artist Cammeron Batanides.
After taking in the artwork, we turned our attention back to the band, who had just finished what seemed to be a 10-15 minute song that featured congas, bass, and solos on both melodica and acoustic guitar. Lead-singer Perry Smith looks every bit the everyman, but he managed to sing in Spanish while juggling improvised solos on multiple instruments. Axiom is a trio comprised of Smith on vocals/guitar/melodica, Diana Zaccaria (Dr. Z) on bass/vocals, and Matthew Waltenberger on percussion. We've seen Smith and Zaccaria play before as part of Cosmic Groove Lizards, but we especially enjoyed them as part of this trio. All three members are seasoned musicians and they riffed and improvised off each other for the duration of their set. We also spent some time talking to Waltenberger afterward and he noted that he will be giving Middle Eastern drum classes at Projekte.
Friday night we set out for recently renovated and reopened Orton's Underground (formerly Orton's Pool Hall, which has been referred to as America's oldest pool hall). Entering through a narrow opening on Front St. we were expecting a tiny little room at the bottom of the stairs in which we'd be battling claustrophobia all night. What we found was a huge underground club with tables and chairs, pool tables scattered throughout, and a fairly large bar that seemed to be much too big for the lone bartender to handle. The fact that such a huge place lay in the catacombs of downtown is absolutely amazing. The start time for the show was listed as 9:00, and we found ourselves walking in the door just before 10:30. A few minutes later, the first band took the stage. The opening band was supposed to be Black Hole Jets, but ended up being the Black Hellatones, minus lead singer Kelly Dickson. Guitarist Storm Castañeda launched right into some serious guitar riffs right off the bat, and he was then joined by his brother Kazz Castañeda who was just as lively on the drums. With fearless guitar solos and a larger-than-life stage presence, Storm is not just another guy with a guitar. We were watching the next generation's Hendrix; powerful yet effortless, Storm played and danced and sang without once missing a beat or playing anything that could be considered ordinary.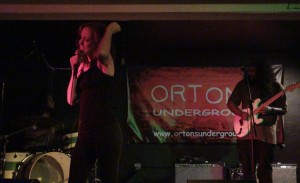 At 11:15 the Black Hellatones from Jacksonville officially took the stage, with the brothers continuing on guitar and drums and Kelly Dickson taking over on vocals. Each member of this experimental/progressive rock band is active on stage and not afraid to get loud and in your face. In fact, Dickson spent just as much time off stage dancing around as she did on. The lyrics may have been hard to understand, but the band's freedom and energy was infectious. Storm jumped around the stage without missing a note, his long hair flying about. Kazz grinned with pure joy as he wailed on the drums.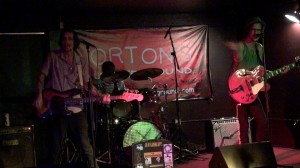 This feeling continued as The Hufton Brothers, also a three-piece band with a full sound, began their set around 12:45. The Hufton Brothers brought their share of energy, with brothers Jesse on vocals/guitar and Justin on bass/vocals, joined on drums by Shane Soles. From the sound of their recordings, the band would fit snugly in the genre of americana with some jangly bluegrass undertones. Live, however, the band rocks. The Huftons unleash on their instruments, and the sound coming through the speakers is more punk than country.  The Brothers showcased new songs, which were well-received by the crowd, and they also had a videographer filming the show. From what we saw, it looks like The Hufton Brothers are gearing up for something big, and we can't wait to check it out. When we left at 1:30 am, the boys were still rockin'.
KFR Live in Wilmington #2