KFR took in seven bands in two nights of shows last week (artists: Clarity for Ransom, Dirty Dakotas, Interrobang, and Open Wire at Brooklyn Bar, plus Dylan Linehan, The Nightmare River Band, and D&D Sluggers at Soapbox). Wow! Here's the video companion to the text review. Check it out and read the full review below!!
We have been meaning to check out the Brooklyn Bar, so we were pleased at the prospect of visiting the Brooklyn Arts Center's more casual side while catching a bonafide hard rock show at the same time. While the BAC is known for hosting large acts (check out our last review on Brandi Carlile at the BAC), they've recently begun opening up to host local bands, open mic nights, and other cultural events. On these nights the back bar is moved onto the floor of the main hall, a few high top tables and chairs are placed throughout the room, and cornhole boards and beer pong are set up along the sides.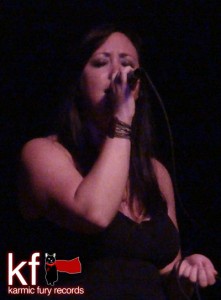 We arrived as the first band was getting ready to start their set within minutes of the advertised start time (hooray for a show starting on time!). Clarity for Ransom is a brand new rock band (this was their very first show), but the musicians are all seasoned experts, and all but lead singer Laura White have been in touring bands before.
White has an amazing voice with a lot of power behind it, and she hits the notes effortlessly without getting lost in the wall of sound behind her. Paul Heiber is a solid guitar player who played his parts well without overshadowing the vocals. The band's backbone was the completely in-sync rhythm section of Nic Martinez on bass and Holly Fucili on drums. Fucili's playing was aggressive but clean, and she and Martinez kept a steady pulse throughout. Clarity for Ransom played a mix of slow and fast hard rock, a full set of dark, brooding songs, with titles such as "Succubus." This band is only going to get better and better as they play more; the talent is there and, as they get more comfortable with the music and with each other, they're sure to be a force to be reckoned with on the Wilmington rock scene.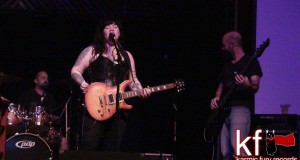 Dirty Dakotas was the second act to take the stage. Dirty Dakotas have been a staple on the original rock music scene for years. The band has been a revolving door of sorts for guest musicians and members who play when they can, which keeps their sound fresh. Anchored by husband and wife rockers Stephanie Hart (vocals/guitar) and Chris Hart (bass) who also perform as a duo, the Dirty Dakotas are one of those bands that will rock anytime and anywhere just because they love it. On this particular night, we got to see their new drummer, Will Evans, in action. While Steph Hart's vocals are always full of passion and intensity, Evans' drums, coupled with Chris Hart's work on bass, added depth and a new level of heavy rock flavor to the performance. Frequent guest guitarist Steve Rossiter completed the night's line-up, throwing in leads while blending nicely with the rest of the band.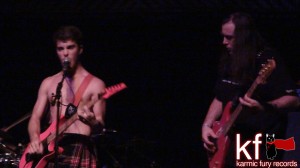 The next band, Interrobang, was all youthful bravado, as lead singer Chris Vickery shredded on his guitar and sang with gusto while wearing nothing but a kilt and sneakers. They made a lot of noise for a three-piece band, but it's a good kind of noise that fills your ears with riffs and melody rather than just trying to fill the room. Drummer Garrett Ward and bassist Logan Greeson both sang backing vocals without missing a beat on their own instruments. The songs were rockin' and the whole band threw themselves into the performance. Interrobang is fearless when they perform and their larger than life stage presence kept the crowd engaged.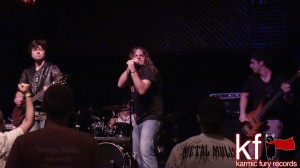 Open Wire was the final band and technically the headliner. It was obvious that this band is very comfortable together, with all members actively headbanging and engaging the audience. Comprised of Daniel Wescotty on guitar, Phillip Milligan on drums, Eric LeRay on bass, and Matt Thies on vocals, Open Wire is a cohesive unit and it's surprising that they've only been together since 2011. Thies led the band and the audience through a raucous set that produced some of the heaviest songs of the night. Wescotty performed killer guitar work while the audience pressed up against the stage and lifted their beers in the air.
The night was an awesome cup full of hard rock and despite sound issues, you really can't beat getting to see four great bands in such a great venue for $5 (cheaper than a crappy mixed drink), all while playing cornhole at the same time.
---
In typical Soapbox fashion, Saturday night's show got off to a late start. We'll always wish this wasn't the case because we've watched folks leave rather than waiting around while it gets later and later. Maybe we're getting old or something. Luckily we were able to stay until last call because Saturday night was the best night of music ever!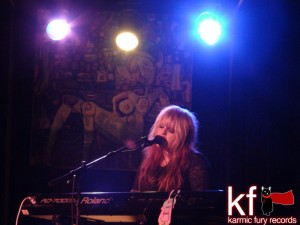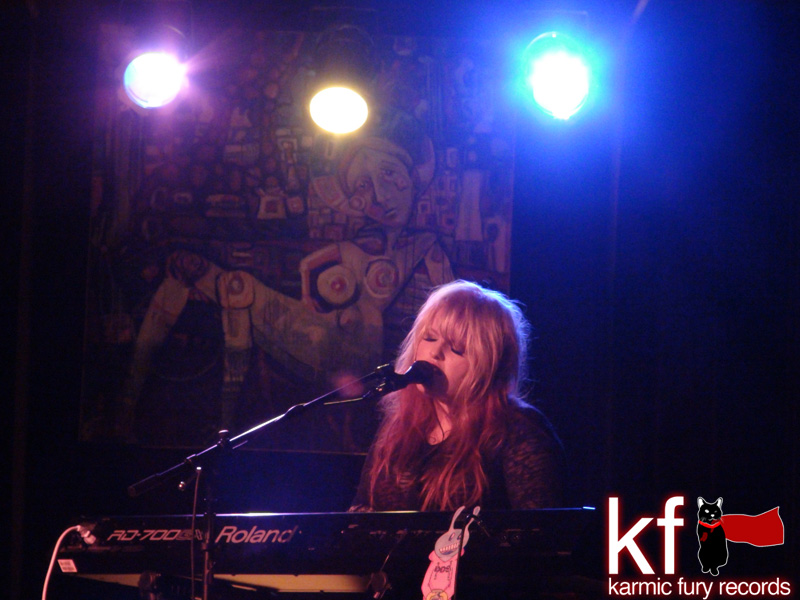 First up was Dylan Linehan, a brand new musical phenom who seemingly came out of nowhere. Linehan was incredible, truly captivating the audience from her first song to her last. She launched into a style of music that could only be described as a blend of theatrical, rock opera, classical, a sprinkling of pop, and a whole lot of "wow" thrown in. These were original songs that didn't sound like anything we've heard before, and that excites us to no end because it just doesn't happen very often. Linehan's voice can go from a subtle whisper to operatic bellowing within a single phrase, all while her hands deftly navigate the keyboard. Her piano playing is exceptional, and it's wonderful to see a singer this good not sacrificing her musicianship for the sake of vocals. Linehan's music is pure jaw-dropping magic.
It's difficult to interact with the audience when you're sitting behind a piano, but Linehan easily manages to be captivating and welcoming – there was an audible gasp of surprise when she admitted that this was her first opening gig as a solo artist. On "Another Day Like Sunday," Linehan eased into what seemed like a mellow ballad, then brought it up to intense rock opera level, and back down again. One of her songs, "For Us" is featured in an upcoming movie. We're not surprised. We also weren't surprised to hear that she's currently writing a rock opera. The final song of her set was a vaudevillian carnival of a piece where she sang in between tricky piano riffs that brought the house down, "White horse you fill my thirsty dreams…Brand you with this love of mine, don't give up on me." When Linehan finished her set, the crowd was hooting and hollering on their feet, demanding an encore. But she is humble, and she didn't even think about cutting into the other bands' time. With a kind personality that can light up a room and lyrics that are as strong as her performance, we can bet that Linehan is going to be quite successful. See her now – she plays one Wednesday a month as a solo act at Costello's and also performs frequently as the newest member of local cover band Velvet Jane.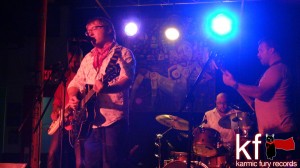 Next to take the stage was the The Nightmare River Band, the only out-of-town band to make this review. The New York based group delivers high energy punkabilly music with songs that are catchy but not formulaic. They easily change pace from frenzied americana/rock to a slow but determined groove and then back again, all while staying completely together as a band. Lead singer Matt Krahula transitioned from song to song with comedic banter in between, and his band mates were sure to jokingly rib him and remind the audience that it was his birthday. One song featured the tagline, "Built a house, when all you need's a home," while an honest ballad about getting a DWI noted that "It's rain without a cloud in sight….life just stops…hold me tonight as I'm falling from grace." Their sound was reminiscent of Flogging Molly as they launched into what sounded like an Irish drinking song, before coming out the other side with a song that mentioned both Jeffrey Dahmer and "Frederick Douglass staring at the drugless." The Nightmare River Band put on one hell of a show.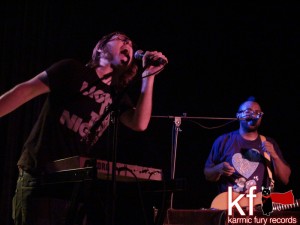 The final band of the night was D&D Sluggers, who have been a favorite of ours since their inception. Although Tim White and Dustin Overcash both got their start in more traditional bands (we met the guys several years ago on the acoustic open mic circuit when they were both in other projects), they found their true calling when they mixed their love of music with their love of video games. The result is danceable and fun music that is part of the up and coming chip-rock movement.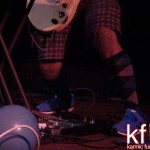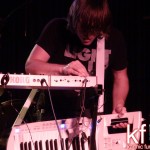 D&D Sluggers always put on a great show, but they really outdid themselves this time. After filling the stage with purple and teal balloons (the unofficial D&D colors, although much like the band-designed cartoon activity pages that were put out for fans to color, they don't really follow the rules when it comes to branding or anything else really) the show began with "It's a Party" and indeed it was. The crowd continued to dance and party through their entire high voltage set. They performed two new songs, including a song called "Bad End" featuring Stingesque vocals from White and Nintendo-style fighting at the end. Overcash and White are masters of theatrics as well as music – Overcash never fails to impress us with his ability to engage in a dance-off while wielding a pretty big keytar. At the crowd's insistence, they played two encores. The first was a rendition of "Real Lovers" that involved members of the crowd holding up signs on stage while the crowd spell-chanted "D&D S.L.U.G.G.E.R.S!" Yes, one of us got on stage as one of the signholders, and yes, there are pictures. It was a great way to involve the crowd, who demanded a second encore which turned out to be – what else – the Teenage Mutant Ninja Turtles theme song.
The night was an impressive array of talent and camaraderie. Although the three acts were probably the most diverse we've ever seen share a bill, every band's fans stayed and rocked out to the other acts. It was an atmosphere of mutual appreciation, among both bands and audience members alike. D&D Sluggers sang, "It's a party, you can dance if you want to." And we did.
KFR Live in Wilmington #3